Thousands of keyword ideas
are waiting for you
Try seo agency or agencydashboard.io

Try seo agency or agencydashboard.io
Our Free Keyword Research Tool Offers

Import up to 20 keywords and get free keyword suggestions.

Browse through keyword search volume trends for a period of 12 months.

Get thousands of related keyword ideas.

Get results based on location and target audience.

Keyword difficulty score to indicate competitiveness of a keyword.

Identify keywords that are pertinent to your business objectives. Discover one of the best Keyword Explorer tool in the industry.
Identify money keywords in Google, YouTube & Amazon

Google Keyword Tool
Unlock the potential of your content with our free keyword exploring tool. Get a better ranking on search engines by optimizing your content with targeted, high-performing keywords. Use this tool to discover relevant keywords for your product to help your website rank higher.
Search for Google Keywords

YouTube Keyword Tool
Unlock the Power of YouTube with Our Keyword Explorer Tool. Discover Catchy Titles and Trending Keywords. Find the Right Hashtags for More Views & maximize Your YouTube Reach with our YouTube Keyword Explorer.
Search for YouTube Keywords

Amazon Keyword Tool
Want your product to do well on Amazon? Make use of our Keyword Explorer free keyword research tool to find relevant keywords for your product on Amazon listing. Optimize the listing with the right keywords to help the shoppers find the product easily and improve your sales exceptionally.
Search for Amazon Keywords
Analyze Core Keyword Parameters
Examine various core parameters to identify the best keywords to enhance your marketing efforts.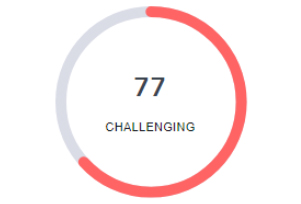 Search Volume Trend
Analyze the search volume trend with the help of Keyword Explorer to find what keywords are trending and what keywords are relevant to your industry. With the help of our free keyword research tool, find the monthly organic searches and understand the search volume dynamics. Leverage this insight to adapt your marketing strategy in accordance with keyword trends over the course of the past year.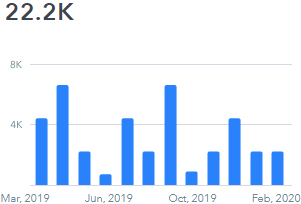 Avg. Search Volume
Keyword Explorer is a free keyword research tool that allows you to analyze how many monthly organic searches were made using your selected keywords. The average search volume statistics help you study whether the selected keywords are worth targeting, or if there are better keywords to get results.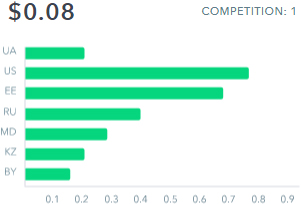 Competition Index
The competition index for a keyword determines the level of competition a particular keyword has in the search engine results. In addition to providing information based on your chosen location and language, our Keyword Explorer tool also gives you information based on the metric on a scale of 1-100.
Achieve Greater Rankings with Keyword and Domain Search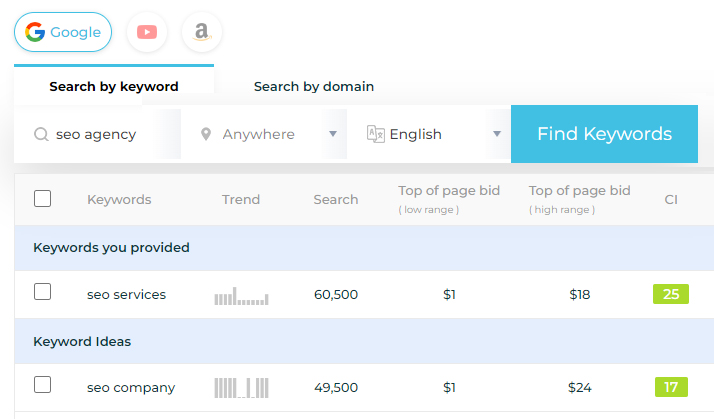 Search By Keyword
The Keyword Explorer tool makes it easier for an SEO agency to find high-ranking keywords relevant to their industry. With the 'Search By Keyword' feature, users have the flexibility to choose the location and language of their preference for the search.
The tool will show the search volume, and competition index for the keywords entered and related keywords. These can be helpful in determining which keywords to target in their SEO and PPC strategy.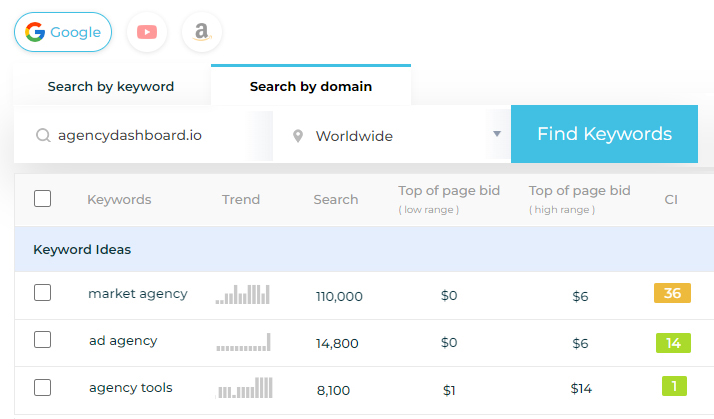 Search By Domain
'Search By Domain' is another free keyword research feature of our tool that lets you find high-ranking keywords based on the domain name. The keyword search can be done for any location and language to get related keyword ideas.
Searching by domain in a keyword research tool allows you to view the keywords that are currently driving traffic to a specific website. Furthermore, this can be advantageous as it assists in recognizing any gaps in keyword coverage that a website could work on.
The Keyword Explorer tool has many features that can be utilized to improve the success of campaigns. It is the premier tool for keyword research, providing a distinct advantage over competitors.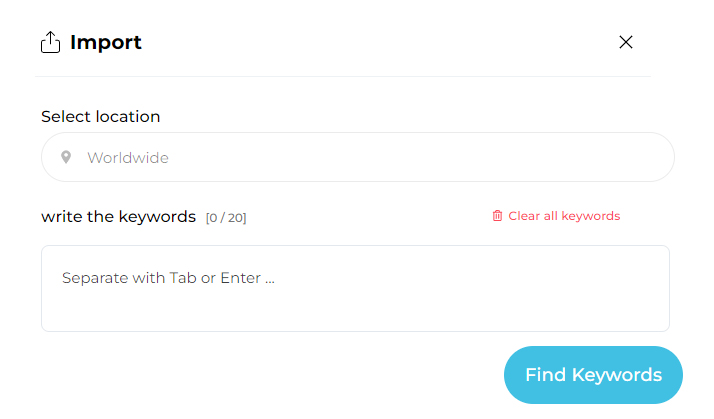 Bulk Keyword Analysis
Brainstorming and analyzing a large number of keywords can be a time-consuming process. Fortunately, our Keyword Explorer tool is equipped with a bulk keyword analysis feature to make the process easier. Our platform allows you to quickly and efficiently analyze multiple keywords, providing a comprehensive report.
The free keyword generator tool carries out an analysis of search queries in bundles to create a report regarding the keywords. This report can be downloaded in a CSV file format and makes it easier to compare your performance over the months.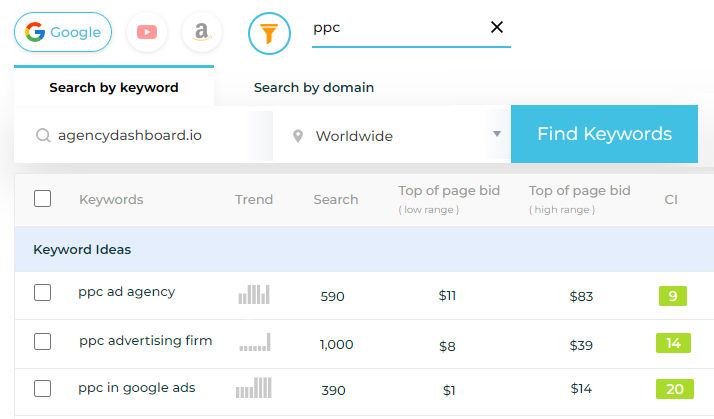 Keyword Refining
Keyword Refining is another excellent feature of Keyword Explorer that helps SEO agencies in using the right keywords to get the best results with minimum effort. The refining feature allows you to filter out irrelevant keywords from the results.
You can also sort out keywords based on different metrics like search volume, competition index, and industry relevance to create the most relevant and refined keyword list. This list allows you to drive more traffic and conversion for your website.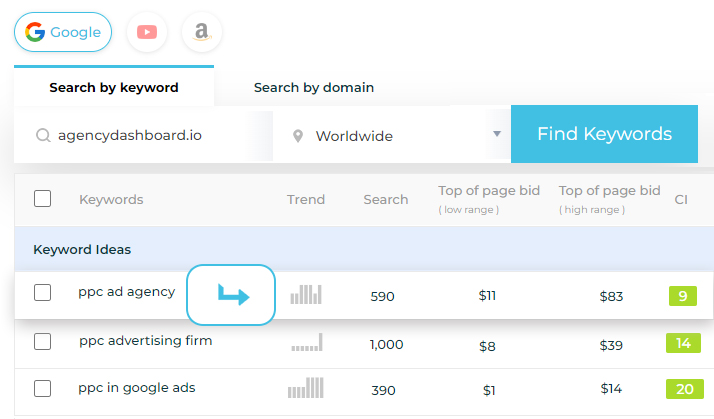 Related Keyword Ideas
Want to move away from the traditional keywords? Keyword Explorer is designed to help SEO agencies in finding the ideal keywords for their campaigns. The tool also offers advanced filters to narrow down the list of potential keywords and only show those that are most relevant to your specific needs.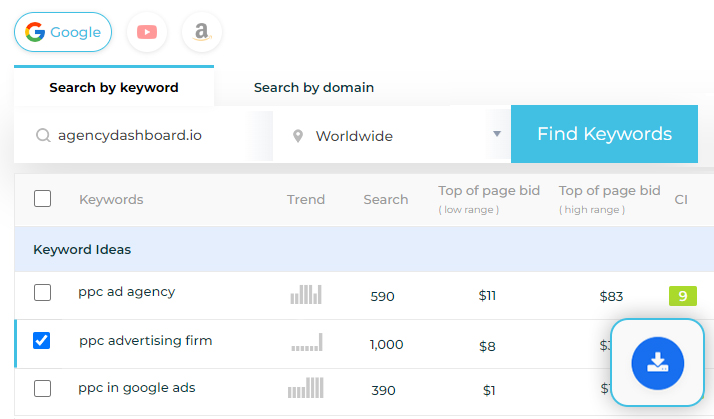 Get Your Keyword List in Excel Format
With our tool, you can quickly and easily download a list of researched keywords directly into an Excel file format. All you have to do is select the 'Download' option to start the process. Once you've done that, our tool will generate the list of researched keywords and download it into an Excel file format.
By reviewing your keyword list, you can compare your progress and gain insight into which keywords were ranked in the previous month, as well as identify potential changes you can make to your strategy.
Frequently Asked Questions (FAQs)
The purpose of a online free keyword research tool is to help identify and analyze the keywords and phrases that people use to search for products and services related to a specific industry.
The free tool can be used to identify high-traffic keywords, as well as to find related keywords that may be more specific or less competitive. This information can be used to optimize website content and improve search engine rankings, or to identify new opportunities for creating content or products.
Additionally, Keyword Explorer tool is not only useful for identifying relevant keywords, but they can also help to assess the level of competition for a particular keyword. This determines which keywords are more likely to generate website traffic.
Yes, our Keyword Explorer tool supports different languages and countries. The advantage of this feature is it helps SEO consultants & agencies find the right keywords targeting their location and language. Along with this, the top free keyword research tool gives you data for different countries to make it easier for you to filter your audience.
There are several ways in which you can find the relevant keywords for your website. Some of these ways are:
Competitor analysis: Analyzing the keywords that your competitors are ranking for can give you insight into the keywords that are driving traffic to their website. You can use a keyword research tool to analyze your competitors' domains and see the keywords they are ranking for.
Google Suggest: When you begin typing a query into the Google search bar, Google will suggest related searches. These suggestions can give you an idea of the popular keywords and phrases that people are searching for.
Customer Understanding: Before you start your keyword research, you should think from a customer's point of view. You need to understand the results they would want to see and the questions they ask. This will help you in identifying the right and popular keywords and phrases.
Search Engine Result Pages (SERP): Analyze the top ranking pages for your seed keyword on SERP and see the related keywords used on the page, titles, meta descriptions, and tags.
You can generate up to (add number) keywords when you make a search query using our 'Search by Keyword' or 'Search by Domain' feature. These keywords will include all the keywords that offer you the best search engine rankings on Google.
There are several types of keywords that can be used in different contexts, but four common types of keywords are:
Short-tail keywords: These are single words or short phrases that are very broad and have high search volume. They are not very specific and are often used by businesses that have a wide range of products or services. Examples include "shoes", "travel" or "pizza"
Long-tail keywords: These are longer phrases that are more specific and have a lower search volume. They are used by businesses that have a more niche focus and are looking to target a specific audience. Examples include "women's running shoes" "affordable family vacation" or "gluten-free pizza delivery"
Brand keywords: These are keywords that include the name of a specific brand or company. They are used by businesses to promote their own brand and products. Examples include "Apple iPhone" or "Nike sneakers"
LSI (Latent Semantic Indexing) keywords: These are keywords that are semantically related to the main keyword. They are used to provide context to the main keyword and can improve the relevance of a webpage. Examples include "buy" "price" and "review" when the main keyword is "shoes".
Free Keyword Generator by Ahref offers keyword volume metrics and keyword density for a particular keyword. For any further metrics, you need to sign up on their website for detailed keyword analysis.
However, Keyword Explorer is one of the top free keyword research tool that offers you several parameters for keyword research. These parameters include search trends over a period of 1 year, search volume index, competition index, and the bidding range for the keyword.
In addition, you can also export the keyword list in CSV format to keep track of the keywords you use for your website. This helps you in analyzing the growth of your website over time and what keywords you can use for a better search engine ranking.
Long-tail keywords are phrases that consist of three or more words and are typically more specific and less competitive than more general keywords. They are helpful for your website in several ways:
Drive targeted traffic: Long-tail keywords are often more specific, which means they are more likely to be used by people who are looking for a specific product or service. This can help drive targeted traffic to your website, as people who use these keywords are more likely to be interested in what your website has to offer.
Improve search engine rankings: Long-tail keywords are less competitive than short-tail keywords, which means that it's easier to rank for them. By incorporating long-tail keywords into your website's content, you can improve your search engine rankings for those keywords and increase the visibility of your website in search results.
Increase conversions: Long-tail keywords are more specific, which means that people who use them are further along in the buying process. They have a higher likelihood of converting into customers, as they are searching for a specific product or service.
Provide valuable insights: By analyzing the long-tail keywords that people are using to find your website, you can gain valuable insights into what products and services people are looking for, as well as any pain points they may have. This information can help you create more targeted and effective content and marketing strategies.
Reveal niche opportunities: Long-tail keywords can reveal niche opportunities that you may not have considered before. By analyzing long-tail keywords, you may be able to identify new topics or areas of interest that you can capitalize on.
More Features to Explore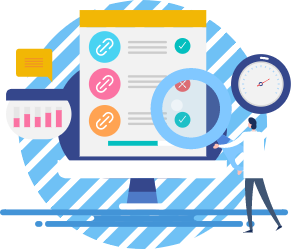 Backlink Checker
Analyze each link against 15 SEO parameters
Discover your and your competitors' backlink profiles
Export backlinks to the Backlink Monitoring tool
Base your backlink profile structure on valuable SEO factors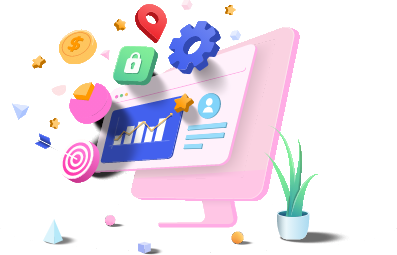 Social Media Management
Schedule automatic social media posting
Analyze key metrics
Facebook & Twitter management
Analyze social media user demographics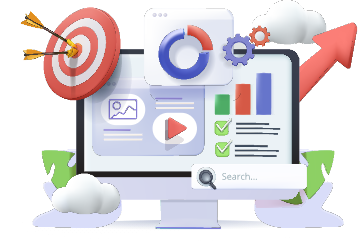 White Label
Customizable domain logo, header, footer, color scheme, and much more
Set automated or manually generated branded reports
Custom access to different SEO facilities
Use your own domain via separate personal access Featured on: